♥ SHEKINAH EL DAOUD ♥ DUAL LIFE RAY ♥ PRIESTESS OF THE AMETHYST & VIOLET LIGHT RAYS
Unity Meditation Wednesday – Join Us!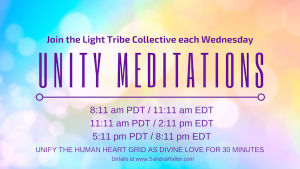 Blessings Beloved Light Tribe,
The energies have shifted yet again, growing more intense for many. There has been a consistent request by our Higher Teams to unify our consciousness – in an active, present way – to create stability as the incoming light grows increasing stronger. We are using the cosmic alignments to receive some very strong frequencies which push the envelope for our evolution and advancement.
There is great power in collective triggers – those passages when several souls enter the peace, the stillness, at the same moment in order to open channels for our Higher Realms to take command. We provide three opportunities each Wednesday to create collective triggers and assist the calling forth of the highest Ascension timelines as a collective. If you are available, we ask that you join us.
There have been reports of spontaneous healings, activations…
View original post 249 more words